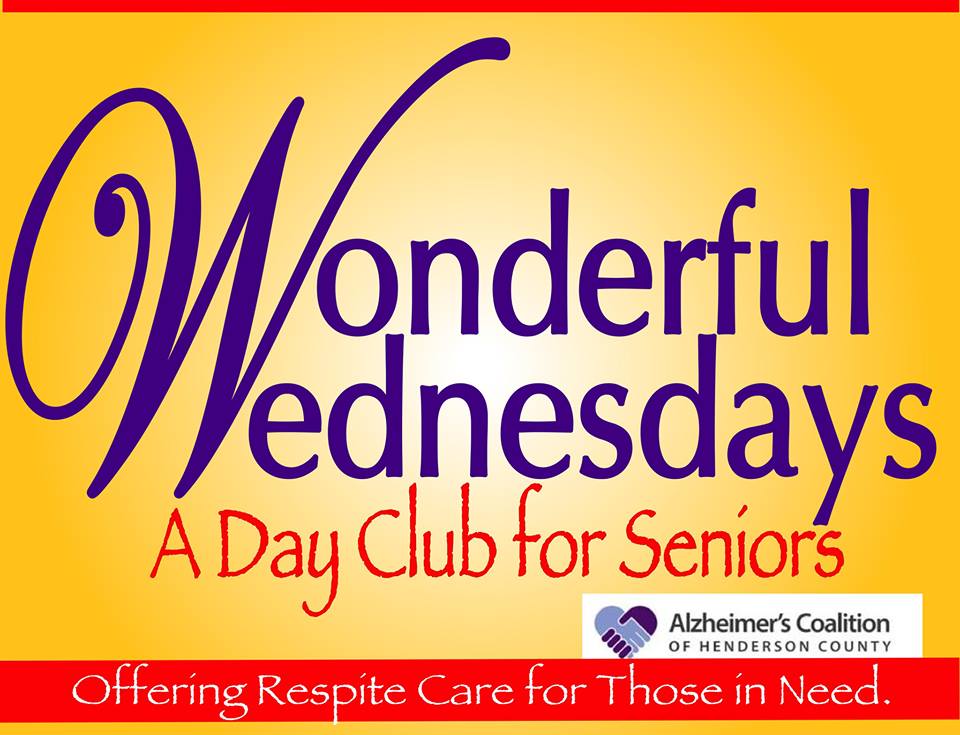 Wonderful Wednesdays Provide Caregivers the Break They Desperately Need
It is estimated that 5 million Americans are living with Alzheimer's. In Henderson County, where 25% of the population is over the age of 65, it is estimated that 1 in 10 people in that age range are living with Alzheimer's. And for many Alzheimer's patients, there is one primary Caregiver.
The Alzheimer's Coalition of Henderson County exists to provide support services to Caregivers who are giving their time and talents to those in their family and community who are living with Alzheimer's. Support comes in many forms, including education, support groups, and now, a bi-monthly respite care program called Wonderful Wednesdays.
"I've dedicated more than a decade of my life to senior living," says Aubry Gregory, President of the Board, Alzheimer's Coalition of Henderson County, "so I know what spouses, families, and friends go through when they must learn to care for their loved one, who is now not who they used to be."
Wonderful Wednesdays is a program that allows Caregivers to comfortably take a much-deserved break. Every first and third Wednesday, Caregivers can bring their loved ones to a safe and engaging environment, where friends are made and attention is paid. There is no cost for this service.
Community volunteers are trained and available to befriend each guest who comes to visit Wonderful Wednesdays. Every Wednesday features a different theme, complete with decorations, snacks, lunch, and activities.
"When we started Wonderful Wednesdays, we knew we would have a unique opportunity to foster new friendships," Gregory said. "But we weren't quite prepared for all the amazing things we've seen. We've seen volunteers and participants singing to each other as well as friends wearing each other's favorite colors. Sometimes Caregivers even decide to stay with us because the activities we have planned look like so much fun!"
If you or someone you know could benefit from the Wonderful Wednesdays program, contact Aubry Gregory at 903-651-1502 or email wonderfulwednesdays@gmail.com.